Wednesday, July 29, 2015 - 11:54
Who Is Dino Melaye? I got to know about Senator Dino Melaye during his first term in the Nigeria senate when he was fighting on live TV, and his cloth torn apart, i just concluded, Ohh, so we elect thugs into the house now, old men that could not use their words, but believe in their fist.
Dino Melaye is a chameleon, and we don't need to be in his camp to know that, he is one of the senators that make other Nigeria senators look like a joke. During his first term in the senate, Dino Melaye was in support of the leader of the house then, Patricia Etteh, who was exposed for awarding contracts for renovations to herself, the renovations were outrightly not needed, so to support Patricia, Dino Melaye fought literally, throwing chairs and tables, and covered with his own blood..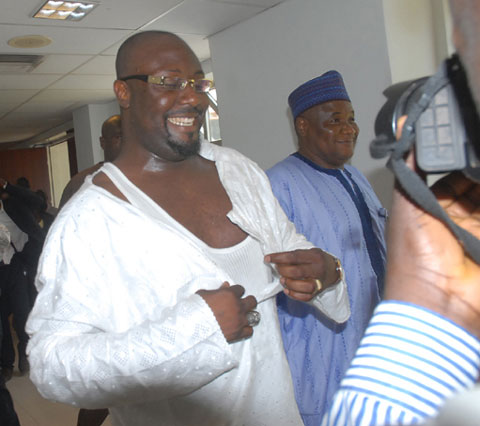 Read : No Change In Nigeria Corruption, Just Change In Government As Senators Get $45m In Wardrobe Allowance
See one of Dino fight in the House
He was later suspended after the fight in the senate. Since then I have watched closely, who is Dino Melaye?, there was a time he had family issues.Tokunbo, his wife moved out of their house because of what she termed, domestic violence. Also, he was accused of extra-marital affair with a Nollywood actress, Bisi Ibidapo-Obe, he denied both allegations.
Family issue is not why am writing this, but just a question of "Who is Dino Melaye?" Dino Melaye is just another man that claims to be fighting corruption in the Goodluck Jonathan era. Even on his Twitter page, Dino-Melaye claims to have a website, anti-corruptionnetwork.org, the website was writing about different corrupt practises in Nigeria, but immediately Dino Melaye won the election of the senate again back in the last general election, the website went offline.
According to the "About website" page on Facebook :
 Anti-corruption Network is a registered Non-Governmental, Non-religious, Non-political, Non-profit oriented Organization. It is set up to fight all forms of corruption in Nigeria through enlightenment campaigns, educational materials, exposition of crime and corruption activities of persons, groups, government etc.

Founded by Hon. Dino Melaye, a former member of the house of Representatives of Nigeria, former Chairman House Committee on Information and National Orientation, a social crusader, human right activist, public analyst and politician, on the 20th January 2012, it has succeeded so far in its fight against corruption in the Nigerian society. It was established by progressive minded, committed and dedicated Nigerians.

The Anti-corruption Network has so far served as the voice of the voiceless and masses who are suffering the negative concomitant effect of corruption.
Before the establishment of this Network, there was virtually no group or non-governmental organization with the passion, zeal and sincerity of purpose to confront corruption practices in Nigeria. The Network will frontally investigate, expose and inform Nigerians on all forms of corrupt practices in Nigeria, by Nigerians for Nigerians.
Also, as a dubious politician, Dino Melaye employs the use of social media network to re-appear as a changed man, and a man that will fight corruption to the very end. He hired some gullible Nigerians, and staged different campaign in Abuja during Goodluck Jonathan administration, and also worked with the BBOG campaign organisation headed by Oby Ezekwesili, former minister of Education.
When he came on Twitter, Dino Melaye profile reads :
           ACN, Chieftain, former member of the House of Representatives and a human rights activist
Dino Melaye hs done nothing to earn him the title of the self styled, human right activist, probably he is delusional and belives his fuel subsidy march, waging war on Twitter, BBOG campaign makes him a human right activist. Dino Melaye is just like every other Nigeria politicians that honour themselves with "Human activism" after loosing an election.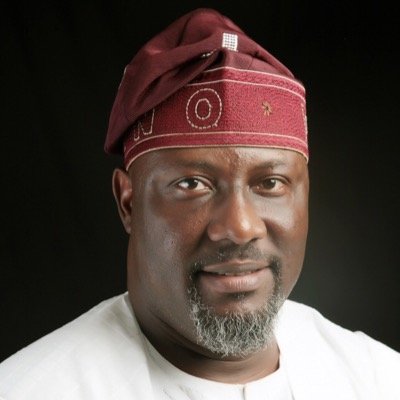 Dino Melaye profile on Twitter now reads :
      Senator of the FRN,former member house of reps,executive sec,Anti Corruption network. Democratic evangelist. Private Investigator
The reason for this article is Dino Melaye appearance with Bukola Saraki wife, Toyin Saraki at the EFCC office yesterday in Abuja. Dino Melaye who has preached on how he will kick against on Twitter, started an anti-corruption war on Facebook, can now support a suspect whom the anti-graft agency invited for Money laundering activities.
The support of Toyin Saraki ignited fury in Nigerians who were disappointed by Dino Melaye show of shame in support a corrupt suspect. How can you fight corruption when you are hand-deep and following corrupt suspect.
Read: Corruption: EFCC Invites Bukola Saraki Wife, And Former President Musa Yar'adua Daughter On Corruption Charges
Some of the comments from Nigerians after his walk of shame to the EFCC includes :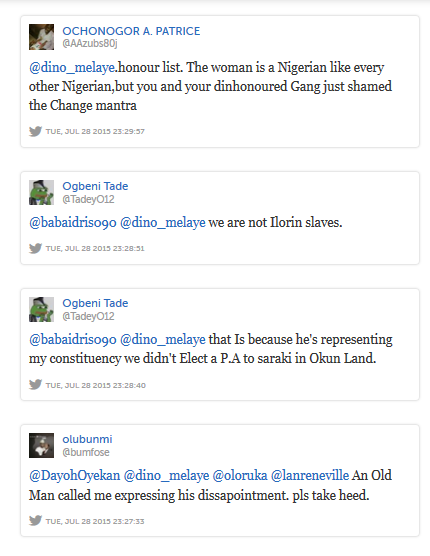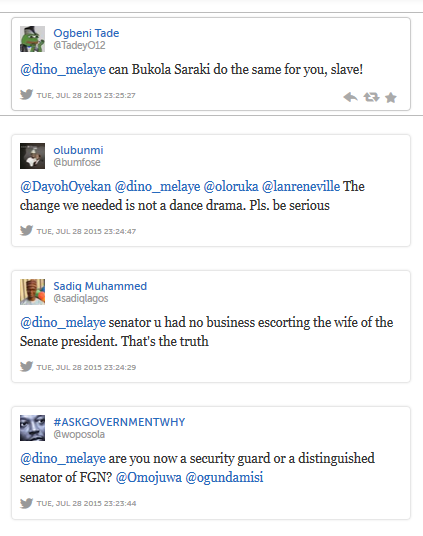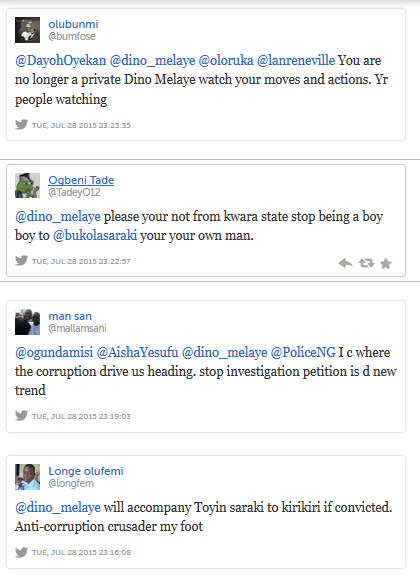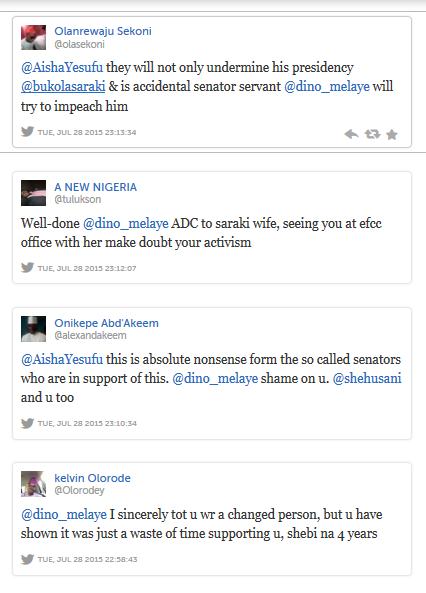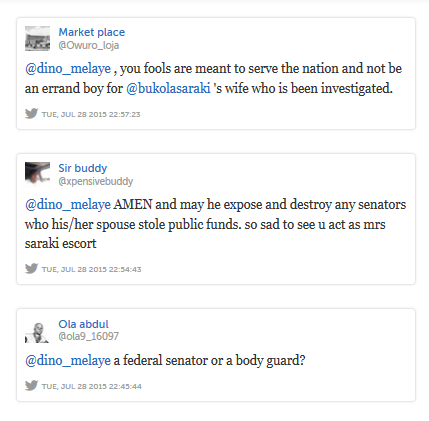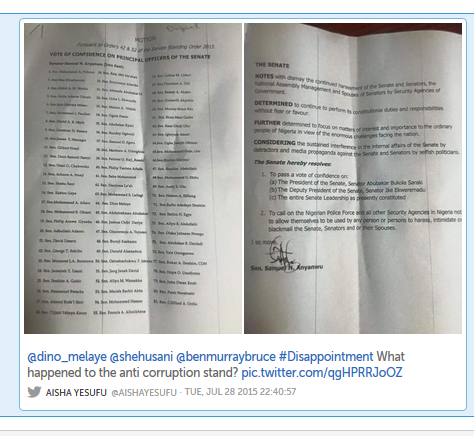 From the looks of things, I am not the only one watching, but the whole of the country is watching Dino Melaye as he turns into different colour to suit his environment, and this sure will back fire someday and the game will be up.
So if you are wondering exactly who is Dino Melaye, I guess you have your answer now.