Wednesday, April 8, 2015 - 15:31
South Carolina, USA: A white South Carolina police officer has been charged with murder after a video emerged online of the officer shooting a black man running away from him 8 times in the back.
Michael T. Slager, a 33 year old  North Charleston officer told the police that he had pulled the victim, Walter Scott, 50 for driving a car with broken brake light on Saturday 9:30am. During the encounter, Scott took away his Taser and ran away from him. It was then officer Slager feared for his life and he shot the man 8 times for his defence.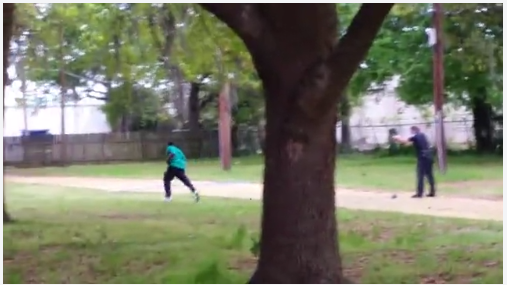 However, a video emerged online that shows a complete side of the story. The video shows Scott running away from Slager, and he[Slager] stands still and shot him fatally 8 times in the back, and the man fell down.
Slager can be heard in the video saying:
                 Shots fired and the subject is down. He took my Taser.
Slager works to the body and yells, "put your hands behind your back" and handcuffed the man  while he picks another thing on the ground.
The video footage was shared by an anonymous bystander on his mobile phone and wrote :
The video begins in the vacant lot, apparently moments after Officer Slager fired his Taser. Wires, which carry the electrical current from the stun gun, appear to be extending from Mr. Scott's body as the two men tussle and Mr. Scott turns to run.
Something — it is not clear whether it is the stun gun — is either tossed or knocked to the ground behind the two men and Officer Slager draws his gun, the video shows. When the officer fires, Mr. Scott appears to be 15 to 20 feet away and fleeing. He falls after the last of eight shots.
During a news conference, the mayor of North Charleston said that the officer made a bad decision and that prompted his arrest:
   When you're wrong, you're wrong," Summey said. "When you make a bad decision, don't care if you're behind the shield or a citizen on the street, you have to live with that decision
Watch the video below
Doy News